Many people with care needs prefer to live as independently as possible at home. Therefore being cared for in your own home could be the best option for you: you get to retain your independence; you are not uprooted from the home that you love and you can feel that you are retaining your dignity. You may also be able to get support from Social Services.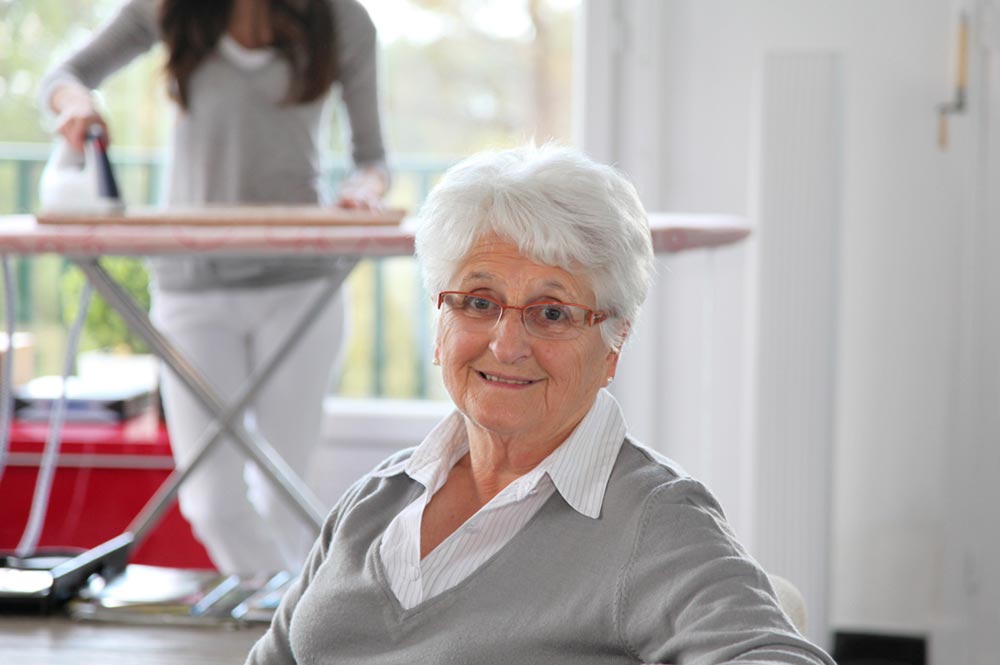 On the other hand, you may feel that you are lonely and isolated, especially if you and other family members live some distance apart. It may also mean that your home needs modification, with the installation of ramps, a stair lift and other living aids. You may also need to think about things such as heating and lighting modifications, access to cupboards, high chairs and bathroom handrails.
However, it may well be that living in your own home is what you want to do and it may well be the best solution. If so, and if you need help with day-to-day jobs and so on, there may be help available from social services. There is the meals-on-wheels service, day centres and local pensioners' groups that may be able to help. You may be able to get help in carrying out personal and/or household tasks in order for you to be able to live at home and, depending on your circumstances, you may get financial help in paying for these services.
Visiting Homecare
(or Domiciliary) Services

Domiciliary care, also known as homecare, is the delivery of a range of personal care and support services to you in your own home, covering short periodic visits through to 24 hour, live-in care (See Live-in Care).
Typical domiciliary services include:
1
Support around the home:
Cleaning, changing bed linen and towels, laundry and ironing, shopping for weekly groceries, help with meal preparation and managing bill payments.
2
Personal care:
Dressing and undressing, washing and bathing, shaving, assistance with hair and makeup, nail care, continence care and support with prescribed medication.
3
Companionship:
Conversation, encouraging contact with family and friends, help with reading and keeping up correspondence, accompanying on holidays, day trips or short breaks.
4
Fulfilling lives:
Encouraging and supporting hobbies and interests at home or in the local community, encouraging exercise, accompanying people on visits (including day centres or other community day activities), and accompanying people on doctor's appointments.
---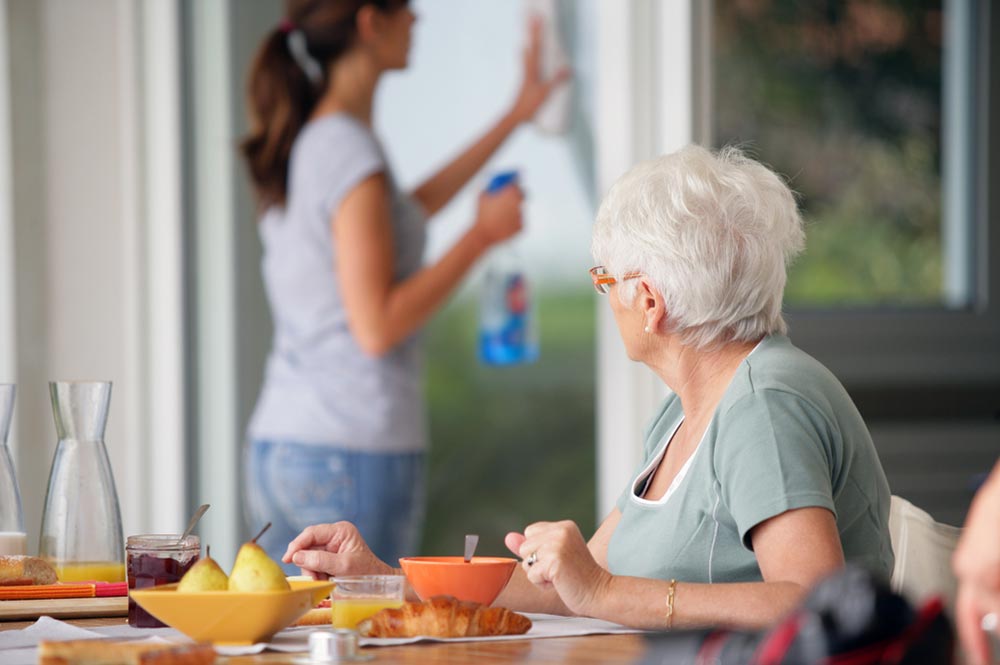 Whether you receive home care from social services or pay for it yourself, you should have a say in what kind of support you receive. You can also request, for example, that your care worker is male or female, and state what times you would like the visits to take place. If you are choosing and paying for your own care, either through a direct payment from the council or your savings, you will probably have more say over who comes in to your home, when and how often.
Home care teams tend to work in certain local areas, so you may have more than one care worker, depending on your needs. The same workers should care for you regularly so that you get to know and trust them and they understand your needs. Having more than one carer will provide cover if one of them is on holiday or unwell.
Some of the benefits of homecare include:
1
Providing emergency or short-term cover when your usual carer is away or unwell
2
If you are living with dementia, the familiarity of the same carers who truly understand you has far reaching benefits in terms of overall health and wellbeing – not something that can be achieved in a care home.
3
It allows your family and friends to visit as frequently as they wish, and ties with the local community can be maintained.
---
4
You can stay in control of your own life with your preferred routines, meals, environment and social life – promoting overall wellbeing.
5
If you are a couple, you can stay together for longer.
6
It allows a family pet to be cared for or that much-loved garden to be tended.
Temporary Homecare

Apart from visiting homecare, there are a number of other types of temporary care that are provided. These include:
---
1
Respite Care
Providing emergency or short-term cover when your usual carer is away or unwell
2
Night care:
Providing assistance and reassurance during the night
3
Holiday Care:
Providing additional services such as assistance in-flight, accompanied stay, and a call out service for those on holiday near the area, whether local or abroad
Useful Equipment and Adaptations

---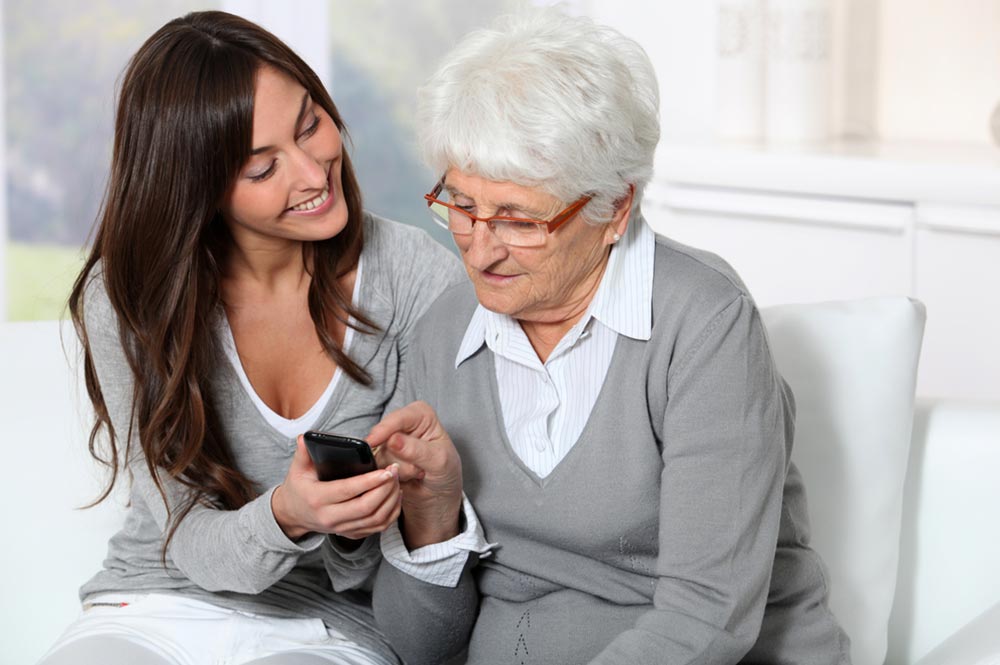 There are different types of technology that can be used to support people of any age with a range of needs in their homes. Perhaps the most well-known technology in the UK is telecare, which is particularly helpful if you are living at home with limited mobility or disabilities or if you are living with long term conditions, including dementia.
Telecare generally describes systems that monitor certain aspects of your life or home and trigger a warning to a response centre when something has gone wrong. For example, 'life lines' or 'pendant alarms' may be triggered if you are in distress (such as if you are unwell or have fallen) prompting a response either from the Response Centre or the emergency services. Technology is evolving all the time and ranges from the more common telecare 'call for help' alarm systems to movement sensors.
The right equipment and adaptations in a home can help you live more safely and independently. Equipment and adaptations (sometimes known as aids and adaptations) are used to adapt your home when you are experiencing difficulties with daily activities. Adaptations can include major structural changes to your home, such as widening doors to accommodate a wheelchair or alterations to a kitchen or bathroom. This might also include the installation of grab rails to help you move around the house safely, stair lifts, hoists, or even simply a grab stick to help open curtains or pick items off the floor.
Useful Sites

---
FirstStop Advice
FirstStop Advice is an independent, free telephone service offering advice and information to older people, their families and carers about housing and care options for later life.
http://www.firststopadvice.org.uk/
Independent Age
Independent Age is an advice and information service providing expertise on social care, benefits, befriending and other social support and has a range of guides and publications.
http://www.independentage.org/advice/
Find Me Good Care
Find Me Good Care is developed and managed by the Social Care Institute for Excellence (SCIE), an independent charity working to initiate improvement and innovation in social care.
http://www.findmegoodcare.co.uk/about-us
UK Homecare Association (UKHCA)
Elderly Care
Elderly Care is a free-to-use website created by the consumer group, Which?, to provide independent information on all aspects of care for older people.
http://www.which.co.uk/elderly-care
The Relatives & Residents Association
The Relatives & Residents Association is an independent charity that exists for older people needing or living in residential care, and the families and friends left behind.
http://www.relres.org/